Saint Flour L'Etang is the name of a Puy-de-Dôme small village. It is located in the Parc naturel régional du Livradois Forez. As its French name suggests – "étang" is the French for "pond", water there is everywhere. There are two ponds, wells, watercourses (the Dore and the Miodet), etc. This article will introduce the village and its surrounding area to you.
First of all, there are two communes named "Saint-Flour" in Auvergne – the first is in Cantal and the second in Puy-de-Dôme. The Puy-de-Dôme village has been nicknamed "Saint Flour l'Etang" to make a distinction. Municipal and departmental services as well as people living there usually call it like this. However this is not officially recognised by the French National Institute for Statistics and Economic Studies (INSEE).
The village spreads from 319 to 561 meters of altitude. It rains more in Saint Flour l'Etang than in Clermont-Ferrand (because of Fœhn wind), but there are less storm days in summer.
The village and its surrounding area are ideal places to wander around. You can enjoy this small commune walking, riding a bike or even using a carriage.
The Saint Flour l'Etang commune is made up of many hamlets – Les Bessières, le Bourg, Charmène, les Charrots, la Chassagne, Chavaroche, la Combe, le Coudert, la Croix Blanche, la Croix du Sangle, Cublas (à cheval sur la commune de Trézioux et Saint Dier d'Auvergne), l'Étang, le Faux, Fontbertasse, le Fraisse, la Goutte du Fraisse, Jacques, Matoux, le Moulin Neuf (à cheval sur la commune de Domaize), le Nugier, Pintrand, la Pourcherie, le Prat, Redigoux, la Roche, le Soleil, la Vigne, le Clos, etc.
There are many ways to discover the village. For instance, you can go from "le Bourg" to "le Nugier", then walk down to "le Soleil" and you can finally turn toward the ponds.
The first pond is the small one. You will see a pontoon – and we advise you not to walk on it, trees, shady places, etc. This (very) small pond is very beautiful and the view on the village is worth a detour.
Here are some photographs of the small ponds :
If you pass on toward the village, you cannot miss the large pond with the house, the cows and the bridge next to it.
Some photographs of the large ponds :
To make the most of your walk, it is better to keep going on the left of the pond before going up "L'Etang". Then, go toward "Charmène", there you can see a former lavoir – a public place where the French used to wash clothes in the past.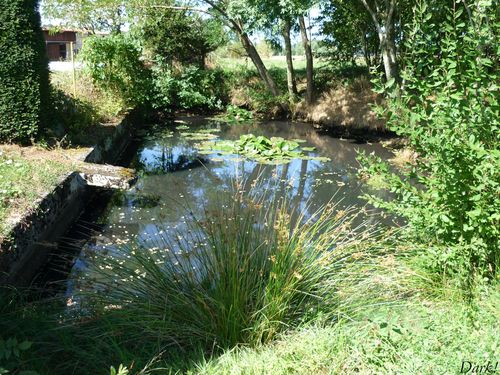 Like this, you will be back to square one. If you want to see other beautiful landscapes, other ponds (around the villages of Cublas and Espinasse) or Mauzun Castle are not far away.
Personal website for Saint Flour l'Etang : http://saintflourletang.site.voila.fr/
Mairie SAINT FLOUR L'ETANG
Le Bourg
63520 SAINT FLOUR L'ETANG
Telephone : 04 73 70 81 13