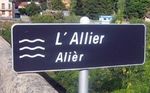 The Allier River (Occitan: Alièr) is a river in central France and a tributary to the River Loire. The Allier is not nicknamed "the largest river in France", "the Kings' river" either. Considering their length and their discharge before they join, some people however wonder which the tributary to the other is. Geographers have made their choice even though salmons have made the choice to sail up the Allier.
The Allier River flows across 7 departments – the Lozère, the Ardèche, the Haute-Loire, the Puy-de-Dôme, the Allier, the Cher and eventually the Nièvre.
The Allier's source is located in Lozère at 1,485 meters of altitude. In Haute-Loire, the river runs through a deeply embanked valley. The basalt plateau named "Le Massif du Devès" is at the East and the Margeride Massif at the West. This is called "Les Gorges de l'Allier".
The Allier gets filled with minerals and winds through the plain. It then leaves some of these minerals in its first collapse basin from Vieille-Brioude to Issoire. There, cultivation, pasture and forests shape the landscape.
(« Le Bec d'Allier » is the name given to the meeting of the Allier and the River Loire)
The Allier is deeply embanked again 17 kilometres after Issoire, near Saint-Yvoine granite horst. Then, the river gradually flows to the Grande Limagne collapse basin. This is a narrow and significantly sloping plain and the Allier flows tortuously.
The course stretchs in Pont-du-Château. From there, the river flows tortuously in a large floodplain. Much further, 425 kilometres from its spring and at 167 meters of altitude, the Allier meets the Loire River – their meeting is called "Le Bec d'Allier".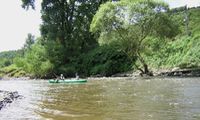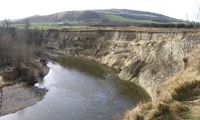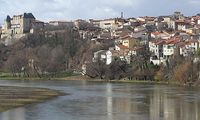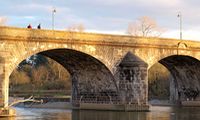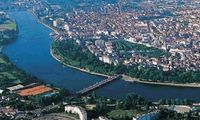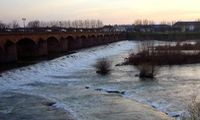 You can see above the Allier near Coudes, Cournon, in  Pont du Chateau, in Vichy and in Moulin.
Sources:
– La rivière Allier et le fleuve Loire
– A la recherche des sources de l'Allier. J. G. L'Eveil
– L'Auvergne de Jean Anglade. Jean Anglade