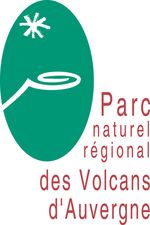 The "Parc Naturel Régional des Volcans d'Auvergne" is named after the Auvergne volcanoes. It straddles 2 French departments (the Cantal and the Puy de Dôme) over a 395,070 hectare area (making it the largest French RNP) and it includes 91,200 inhabitants. It was created 25th October 1977. Water has shaped there unique landscapes in Metropolitan France, that is what makes the Auvergne specificity. France's "Water Tower" (Auvergne's common nickname) thus offer us numerous opportunities to admire many listed natural sites.
The Parc Naturel Régional des Volcans has 4 national Nature reserves all situated in the Puy de Dôme department. They are all managed by the Park joint association. Each stands for one specific kind of environment and shows outstanding wildlife and flora.
The most famous and symbolic valley in the Sancy is the Vallée de Chaudefour. It is an ice valley that stretches over 900 hectares from 1150 to 1854 meters high. 5 springs spurt out of its particularly steep slopes. They are called "n°1", "n°2", "Vercingétorix", "Petit Griffon" and the "Source Sainte-Anne", the most famous. This ochre colour is due to iron highly present in the water (as well as carbonic acid, calcium and magnesium).
The "Sagnes de la Godivelle" protect a peat-bog plus other humid biotopes over about 24 hectares. The reserve is made up of 2 areas: the largest area surrounds the "Lac d'en Bas" (Lower Lake) and the smallest area includes the peat-bog (named "Coualle Basse"), one kilometre north from the Lake.
The "Rochers de la Jaquette" is an 18-hectare reserve sandwiched between the "Cézallier" plateau and the "Couzes" region lower area. The Cézallier is a high plateau, which suffers from a bitter climate, however it offers numerous and beautiful peat bogs. The Couzes region enjoys a milder climate thanks to the Foehn wind and to southern-like winds from the Limagne plain.
A fourth Nature reserve project was validated in 2007: its name is "Réserve Naturelle Nationale de Chastreix-Sancy". It actually will join the Vallée de Chaudefour and the Vallée de la Fontaine Salée.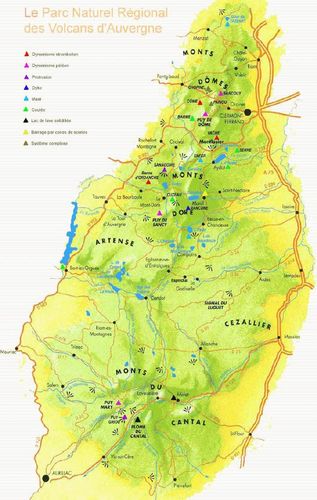 There is a large number of waterfalls that can be even used as climbing walls during winter! The "Chiloza" and the "Vaucoux" waterfalls are just an introduction to all the waterfalls you can find in the Park.
Springs are also numerous: the "Source de la tête de Lion", for instance, is worth the detour.
The area is dotted with many lakes belonging to different categories. The Lac Pavin and the Gour de Tazenat are maars (lakes formed in a low-relief volcanic crater). You can go hiking around the Lac Chambon or the Lac d'Aydat and even bathe in them. Others are actually peat-bogs protecting extraordinary wildlife and flora.
Back to the Regional Nature Parks page